The RØDECaster isn't turning on. How can I turn it on?
Please make sure the power cable is screwed in next to the red power button. No luck? Make sure the plug socket is switched on at the wall. Press the red 'on' button on the RØDECaster Pro and wait for the device to turn on.
The screen is too dark. How can I turn up the brightness?
Click the Settings gear on the screen (circled below), tap Hardware, go to Advanced, and turn up the brightness of the screen/controls there.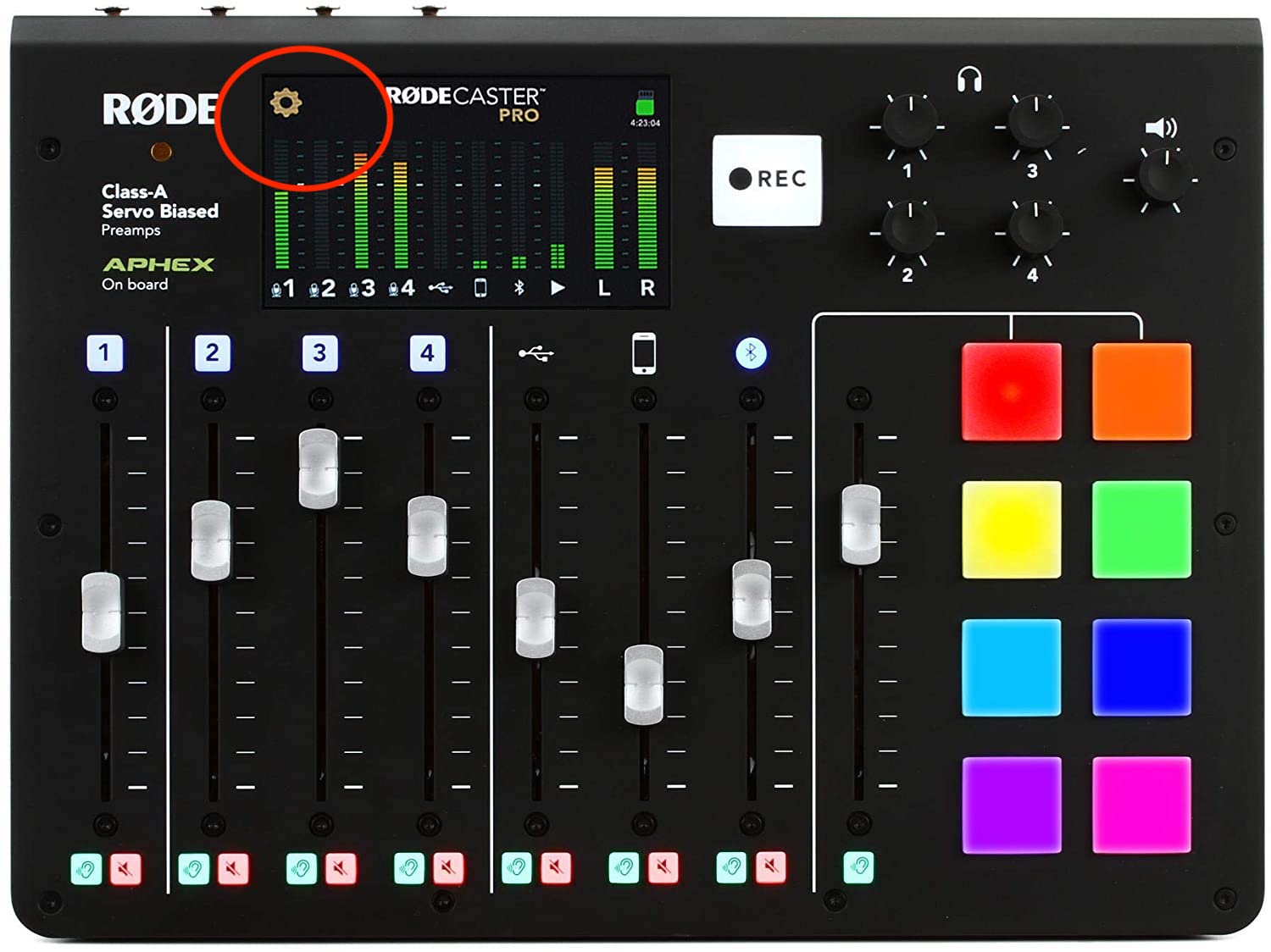 I can't connect via Bluetooth
Make sure Bluetooth is enabled on your device
Press the Gear button on the Rodecaster
Press the Hardware button
Go to the Bluetooth section
Check Bluetooth settings here and pair a device by tapping the Pair button
It doesn't look like the microphone(s) are picking up sound. Why's that? 
Make sure the sound fader is turned up on the correct microphone/input on the RØDECaster Pro. If you have connected your phone or laptop, please make sure the device volume is turned up 
Someone is trying to call in via Skype on my laptop, but I can't hear/talk to them? 
To interview over Skype, you will need to connect your laptop to the RØDECaster via Bluetooth. 
Why can't I hear anything from the headphones? 
Make sure the headphones and microphones are connected to the corresponding input/output areas at the back of the RØDECaster Pro.
Ensure the volume is turned up for the corresponding headphone in the volume levels at the top right of the device.
Double-check the volume is turned up on the volume fader for the corresponding microphone(s).
Or check if the mute button is not switched on (under the volume fader corresponding to your microphone).
How do I record on my laptop?
You will need a USB C cable first. Here's a quick video explaining how to set up this type or recording session.

I've recorded multi-track onto my SD card, but it's showing up as a PolyWAV file? How do I open it?
If you chose to record on a SD card in multi track mode, the session will be recorded as a single PolyWAV file.
Don't worry! You only need to open the file with a DAW that accepts it (eg. Reaper, and it's free) and it will then be transformed automatically in 14 separate tracks, the first 2 being the full stereo mix and all the other separate tracks. All information about this process can be found here.



Do you need more help with this?
You can contact us via

WhatsApp

or via Live chat, just tap the chat icon to connect. 
If you're in the USA you can also send us an SMS at

+1 (866) 606-0065

. 
Our support team is available 24/7.